27 Oct

CAMPAIGN UPDATE : STILL $118 000 TO RAISE FOR OUR NEW REFUGE

Eastman, Quebec (October 27, 2020) – This summer, Appalachian Corridor launched a fundraising campaign to raise the $175,000 needed to complete the acquisition of a new workspace valued at $510,000 in Eastman. As of today, the team has received generous donations totalling $57,000 but there is still a way to go!
"We are very grateful for all the partners who have supported this great project to date, including the municipality of Eastman," shares Mélanie Lelièvre, Executive Director of Appalachian Corridor. "All the funds raised will allow us to carry out this great project which marks a turning point in the history of our organization and propels us forward!"
Since its founding eighteen years ago, Appalachian Corridor – with the help of many partners – has helped to perpetually protect over 14,400 hectares of land in the region. In recent years, the needs of local communities in terms of environmental management, the opportunities for the conservation of natural environments in the Appalachian region of southern Quebec, and the demand for Appalachian Corridor's expertise in nature conservation have seen a marked increase.
Faced with this positive demand for its offerings, the Eastman-based organization had been seeking for the past five years to relocate to offices better suited to its needs and enabling it to respond to current and future opportunities.
This spring, the opportunity to acquire the ideal building at 466 rue Principale in Eastman came up and Appalachien Corridor's Board of Directors immediately approved it to support the advancement of the organization's activities. In September, the team safely moved into its new offices, and the positive effects are already being felt thanks to a threefold space increase as well as access to high-speed internet ensuring increased efficiency.
Appalachian Corridor's new refuge at 466 rue Principale, Eastman.
"This new space is inspiring and very suited to the great potential of our team and our constantly evolving service offering," adds Ms. Lelièvre. "Moving forward, we have the tools to expand our services and further share our expertise with a multitude of stakeholders including landowners who wish to get involved in conservation, our seventeen affiliated members, the forty-three municipalities and the six MRC of our territory, as well as many schools and day camps."
To make this large-scale project a reality, Appalachian Corridor first looked for financial aid programs with the help of local government officials at the provincial and federal levels. However, no program exists for this purpose. Due to the critical importance of moving forward with the acquisition, the organization has created a financial model that combines a mortgage loan and a $175 000 community fundraising campaign. As of October, there is still $118,000 to be raised.
BECOME A BUILDER OR FRIEND OF THE APPALACHIAN CORRIDOR REFUGE
The fundraising campaign for the new Appalachian Corridor shelter continues with several sponsorship and workspace sponsorship opportunities. To learn more about the "Builders' Program" and the recognitions offered, CLICK HERE.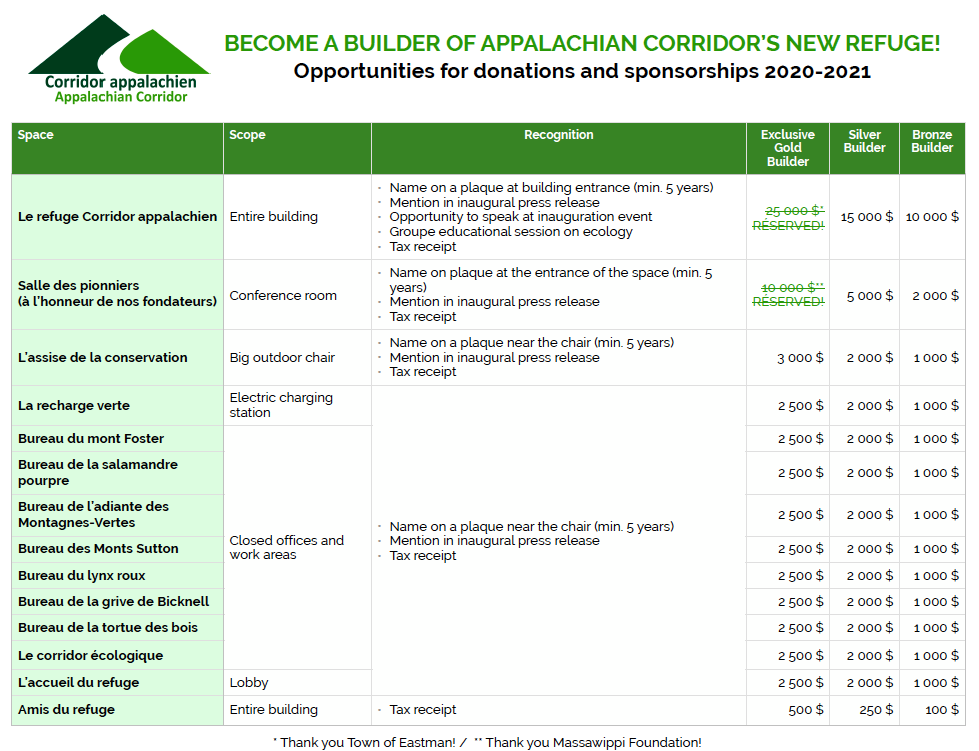 DONATE NOW
To support the campaign with a gift or sponsorship and have an impact on the progress of conservation projects in the region, go to https://www.corridorappalachien.ca/en/make-a-donation/.
MORE INFORMATION
To discuss sponsorships and donation opportunities, contact:
Marie-Hélène Thibeault

579-488-6670

THANKS TO OUR BUILDING DONORS TO DATE
Municipality of Eastman
Massawippi Foundation
Gilles Bélanger, Député Orford
François Bonnardel, Député de Granby et Ministre responsable de la Région de l'Estrie
Benoit Charette, Ministère de l'Environnement et de la Lutte contre les changements climatiques
Pierre Dufour, Ministère des Forêts, de la Faune et des Parcs
Isabelle Charest, Députée Brome-Missisquoi
Municipality of Bolton-Est
Municipalité of St-Etienne-de-Bolton
Municipalité of Shefford
Town of Lake Brome
Marie-José Auclair
Robert Benoît
Philippe Choinière
Tanis Ellson
Louise Gratton
Alexandre Paré
Berthier Plante
Pierre Lizotte
Mélanie Lelièvre
As well as many individual donors