26 Feb

APPALACHIAN CORRIDOR HONORED AT THE 27TH GALA FOR ENVIRONMENTAL EXCELLENCE IN THE EASTERN TOWNSHIP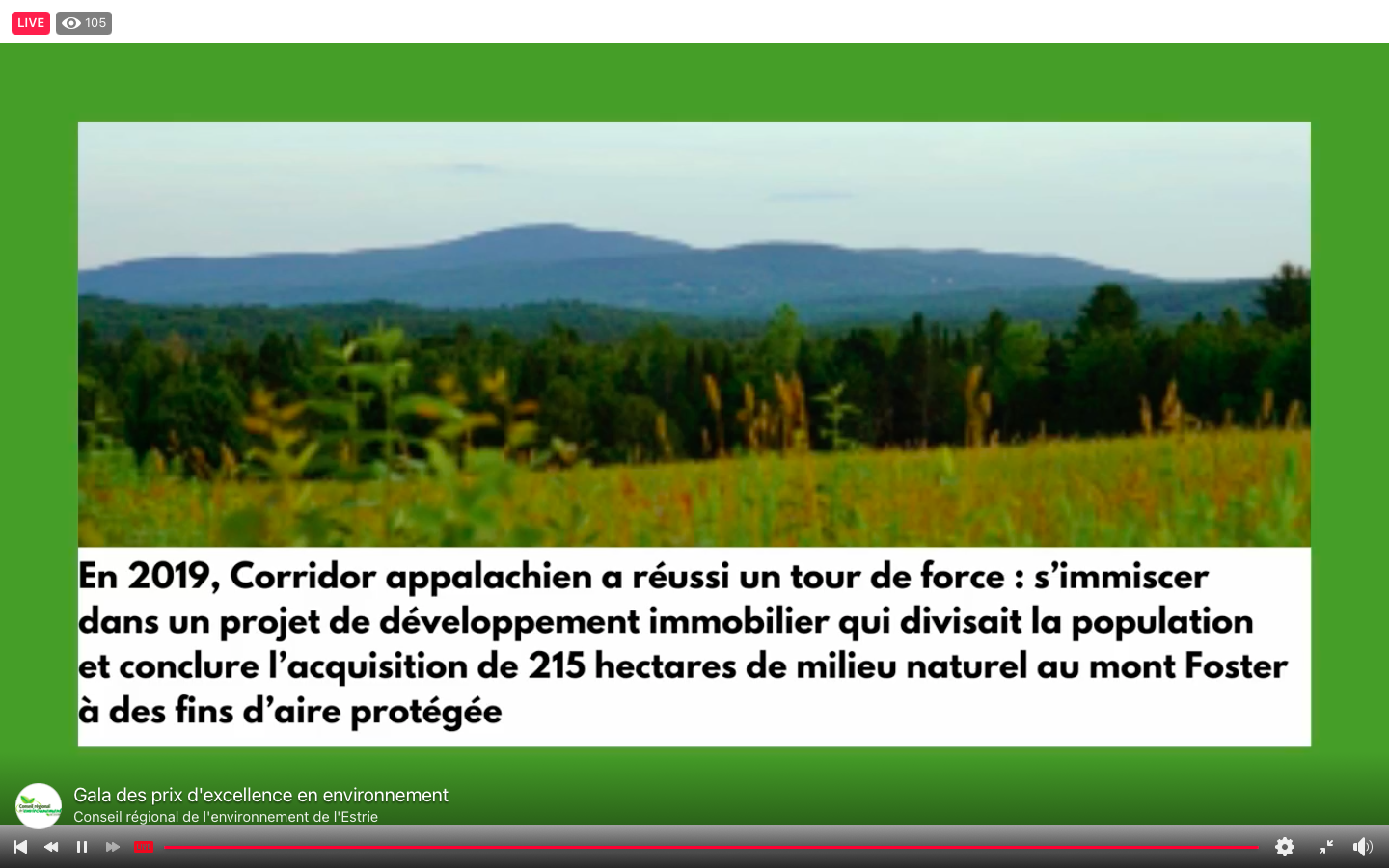 Eastman, Quebec (February 26, 2021) – Appalachian Corridor received a Grand Prize at the 27th Eastern Townships Environmental Excellence Awards Gala, held virtually and organized by the Fondation estrienne en environnement.
More than thirty companies, municipalities, organizations, schools, students, and citizens mobilized for the environment applied for a prize. Appalachian Corridor's efforts were recognized for the acquisition and protection in perpetuity of 215 hectares at Mount Foster and concluded in 2020.
"The Mont Foster project represents a major tour de force for our organization," explains Mélanie Lelièvre, Executive Director for Appalachian Corridor. "It took seven years of hard work and several arduous negotiations with the real estate developer, the municipality, and the community to successfully protect this site of great ecological wealth and which offers a magnificent view of the Green Mountain range. It is very rewarding for our team and the actors who made this project a reality to have the recognition from our peers for this victory for the benefit of the environment as well as for present and future generations."
Since 2002, Appalachian Corridor has worked to protect natural environments on its territory of action, which stretches from Granby to Sherbrooke, and south to the Canada-United States border. Together with its 17 local affiliate members and several funders, the organization has helped to protect 14,619 hectares to date.
The Mont Foster project represents an essential milestone in the protection of a large natural corridor linking the Sutton Mountains massif to the Mont-Orford National Park. The protection of this natural environment represents an important step in the safeguard of non-fragmented and quality natural habitats, both for mammals with large home ranges and for the many species of birds, amphibians and reptiles. As part of the project, Appalachian Corridor also committed to making the site accessible to everyone, via hiking trails.
Founded in 1991, the Fondation Estrienne en Environnement (FEE )'s mission is to promote public awareness of the concrete actions taken to ensure sustainable development and raise funds for environmental projects in the greater Eatern Townships region. Since 1993, the Foundation has organized the Environmental Excellence Awards Gala for the Eastern Townships region. This competition aims to highlight the constructive actions of individuals and organizations in the region for sustainable development.
This is the fourth time that Appalachian Corridor has been honored by the Fondation Estrienne en Environnement.
CONTACT
Marie-Hélène Thibeault
Communications Coordinator
Appalachian Corridor
579-488-6670